The money earned by the artists goes directly to the artist and not to GoNaked. As a result, this item is not a part of the VIP package.
By buying this 6-book bundle you are saving 12% off the individual book prices.
Special SIX book bundle includes:
Five Naked Destinations guides
1 - Northern Europe plus UK and Ireland
2 - Southern Europe plus Israel
3 - United States of America
4 - Canada & Latin America
5 - Asia/Pacific plus South Africa
Plus
6 - Saunas and cruise club guide
About these E-books
This series of E-books is quite possibly the worlds most comprehensive resource of naked places for men, including clothing optional resorts, B&Bs, campgrounds, nudist beaches, nude sailing cruises and men's venues. For gay men who love naturist travel, these E-books take the hard work out of finding the perfect place to stay, relax, tan and play.
We need your help!
In order to keep these E-books up-to-date we would love to hear from you with any new places you may have come across, any news of properties or venues that have now closed or locations, accommodations or beaches you would like to see added. If you have a clothing optional accommodation or gay venue you would like to add or a business listed in here you'd like removed for whatever reason, just let us know.
Contact Gay Naked Destinations
Accommodations - sample page
Included in these Gay Naked Destinations e-books are clothing optional
accommodations, nudist beaches and mens venues. Each accommodation listing is a full page with detailed information and large photographs, plus a direct URL link.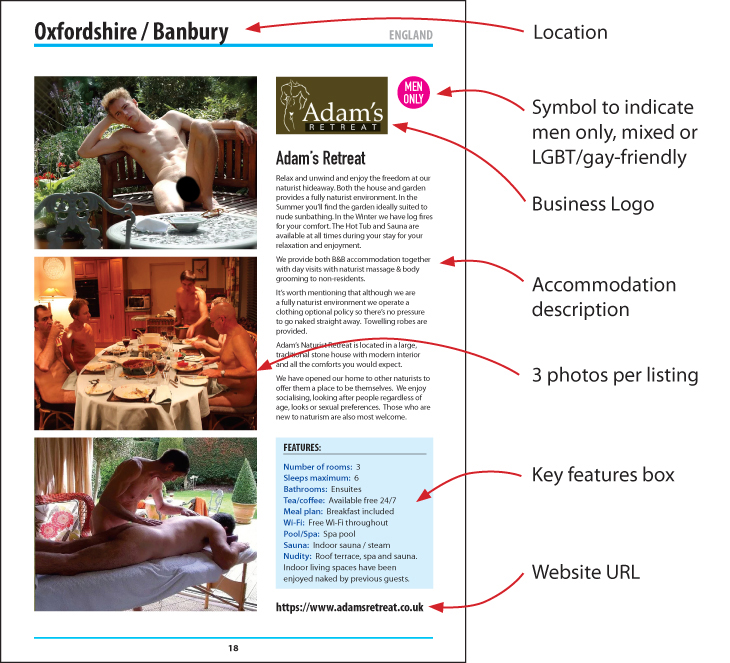 Beaches - sample page
These e-books feature the best known nudist beaches in each of the countries listed, especially those noted to have a good gay following. Many are official nudist beaches.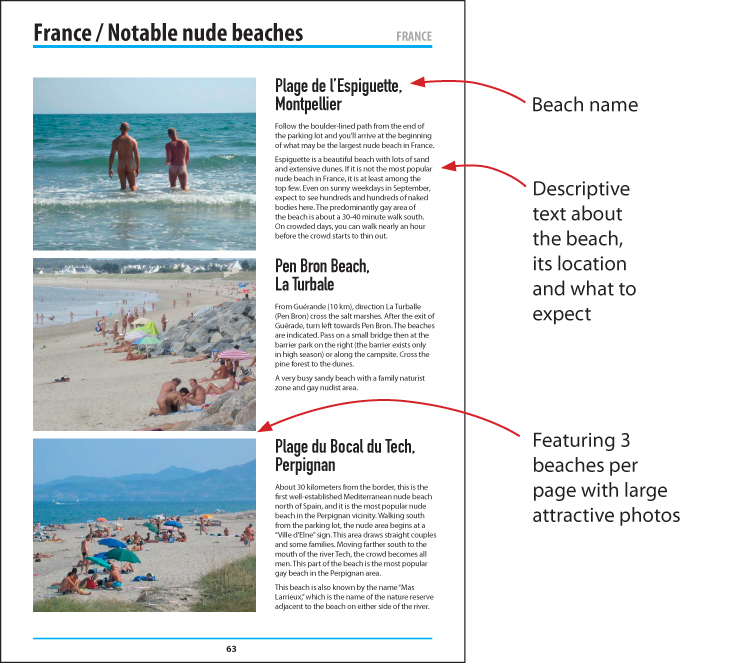 Cruise clubs & Saunas - sample page
These e-books contains notable mens cruise clubs and saunas, particularly those known to have nude only days. Some venues are noted for having clothing optional outdoor areas for nude sunbathing. The ULTIMATE Gay Sauna and Cruise Club Guide is a more comprehensive guide as its own stand-alone ebook.